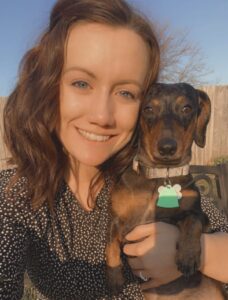 We have another staff spotlight! This time, we want to recognize our amazing Care Consultant, Katie Washington for all she has done to represent Haven's core values. Katie is our representative for facilities, hospitals, and doctors. She works with the people in the medical community that refer patients to our care and she is often someone's first impression of Haven. Her supervisor had this to say:
"I feel that Katie Washington has really shown an example of our core value "forward focused". We have had a bit of a tumultuous relationship with one of our local facilities. Katie has stayed persistent and even-keeled to her approach and attitude with this building. Over time they have had a series of leadership changes that allowed her to gain some traction with some of the key players, giving them the confidence to start using our services. Even when the situation looked very negative, she kept a forward focus on staying the course with this building and she was able to turn it back around by looking at what could be in the future, vs what it was."
We sat down with Katie for a short interview about her time here at Haven:
What do you love most about your job?
What I love most about my job is the potential impact I have on our patient's lives. I'm so thankful to have the ability to interact with residents and patients and find the best possible care for them.
What is your favorite memory while working at Haven?
One of my favorite memories is our company Christmas party last year. It was great having everyone come together to have fun and share laughter. Especially when Jack Frost, Elvis and Santa made their appearances.
Congratulations Katie! Thank you so much for all of your wonderful work.