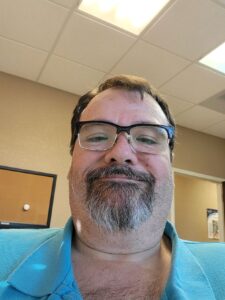 We want to recognize one of our staff members, Keith Wyrick for all his hard work and how he embodies our core values. Keith works in our home health branch as a Business Support Specialist. He works with intake and scheduling, helping our clinicians coordinate so that our patients get the care they need. Keith has absolutely embodied our core values "Forward Focused" and "Dedicated to Clarity Through Honest Communication." Haven Home Health's director, Zach, had this to say about Keith:
"Despite challenges consistently presented to him he remains steadfast and focused on moving our office and intake forward. He is relentless and does not stop, he does not give up and he pushes forward always. Throughout he does his best to maintain excellent communication and is not afraid to say what needs to be said to ensure we are all moving forward and working together. Keith has on multiple occasions come to his supervisor to have honest and hard conversations to help bring clarity and consistency to his job and to help move Haven forward."
We talked with Keith about his time here with Haven. Here's what he had to say:
What do you love most about your job at Haven?
I love how everyone feels like family at Haven.
What is your favorite memory while working at Haven?
My favorite memory is the day that Bethany came in my office letting me know that she would be taking on the Authorization process for Home Health, it says a lot when one of the owners steps up to take care of business, speaks to how much the company means to everyone.
Congratulations Keith! Thank you so much for your great work!